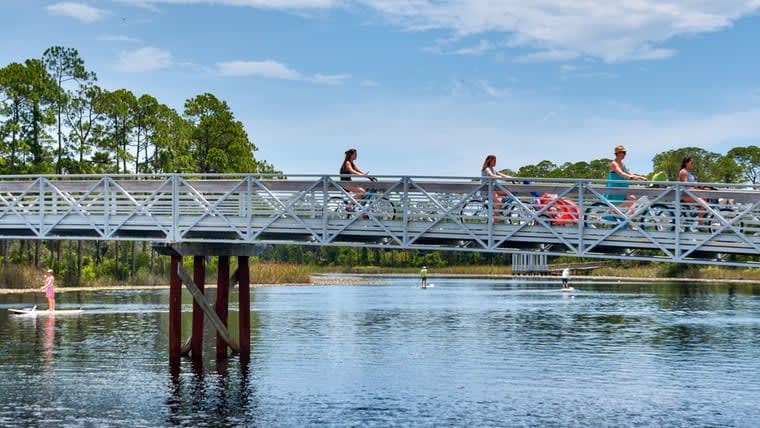 Welcome to Watercolor
A vibrant and sprawling beach community, WaterColor is situated amongst natural surroundings and boasts an unmatchable Southern charm. Tucked away between sugar-white beaches and Western Lake, WaterColor's intricate planning and small-town vibe are welcomed and emphasized by an array of uniquely designed Southern Coastal homes and neighborhoods. WaterColor was planned by Cooper, Robertson & Partners under the guidance of The St. Joe Company, which has owned the land since 1927.
As one of the newer communities along 30-A, WaterColor offers residents and guests five public parks, an outdoor atmosphere perfect for festivals and concerts, a variety of dining options, and a gourmet market all at their fingertips. For the active resident, there is the state-of-the-art WaterColor Workout fitness center, the Bike Barn, which will map out your excursion for you, the Boathouse, Tennis Center, and Camp WaterColor, a family-friendly facility that wholesome family fun. For the nature lover, WaterColor has set aside almost half of its 499-acres for natural beauty, open spaces, and preservation.
In WaterColor, they like to say their community is a place where "nature and neighbors" come together. Hiking and biking paths traverse WaterColor and treat visitors to breathtaking woodland views, pools, parks, and gardens. Known for its "community" feel, the expansive porches in WaterColor are the perfect gathering places for conversations.
WaterColor offers everything from splendid walks on the beach and world-class tennis facilities to golfing, fishing, and the WaterColor Beach Club. The WaterColor Inn and Fish Out of Water Café on-property boasts one of the region's only AAA Four-Diamond hotels and AAA Four Diamond signature restaurants.