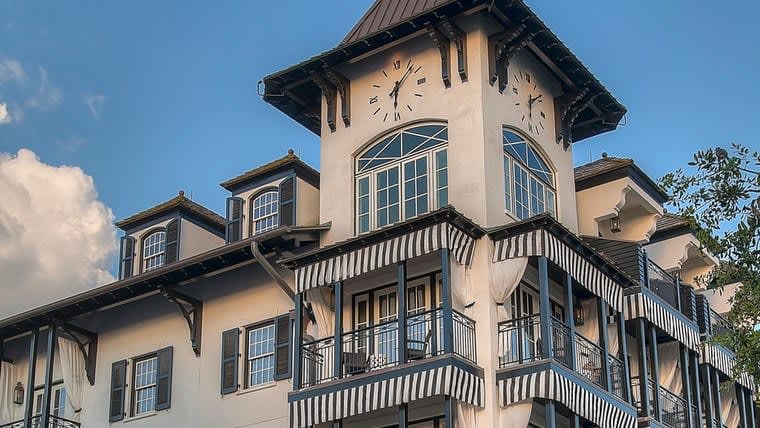 Welcome to Rosemary Beach
Tucked away along the eastern portion of Scenic Highway 30-A near Panama City, stands a gorgeous neo-traditional town that is like no other — Rosemary Beach. Taking inspiration from the towns in the West Indies and the Caribbean, when The Rosemary Beach Land Company and President Patrick Bienvenue founded this 107-acre gulf-front town in 1995, they realized they had created what had previously only been a dream. Town planners wanted Rosemary Beach to be a throwback to simpler times. A time when neighbors knew each other's names and children, community unity was a cherished value. Come back to simpler times.

Walking through the quaint beach town, one can find themselves strolling along the streets of New Orleans or Charleston with its rich historic appeal. A myriad of walkways and hidden pathways navigate you through the town and lead you to tennis courts, swimming pools, or the famed town square. No part of this beautiful town is more than a five-minute walk away from the town center and that's no mistake, whether it's the Butterfly Garden, the Rosemary Beach Fitness & Walking Trail, or one of the common "green" areas that are used for barefoot strolls, bocce ball or just relaxing and reading a book. Do yourself a favor, stroll through the Hidden Lantern Gallery, before grabbing a bite to eat at ,the Cowgirl Kitchen, Pescado, Peradis, or any of the other fantastic dining options Rosemary Beach delivers. Rosemary Beach also has a private owners club which includes a swimming pool, outdoor fireplace, 2 levels of dining spaces, indoor kitchen and bar, and an amphitheater. It is ideal for private parties! As they like to say in Rosemary Beach, Paradise Found.