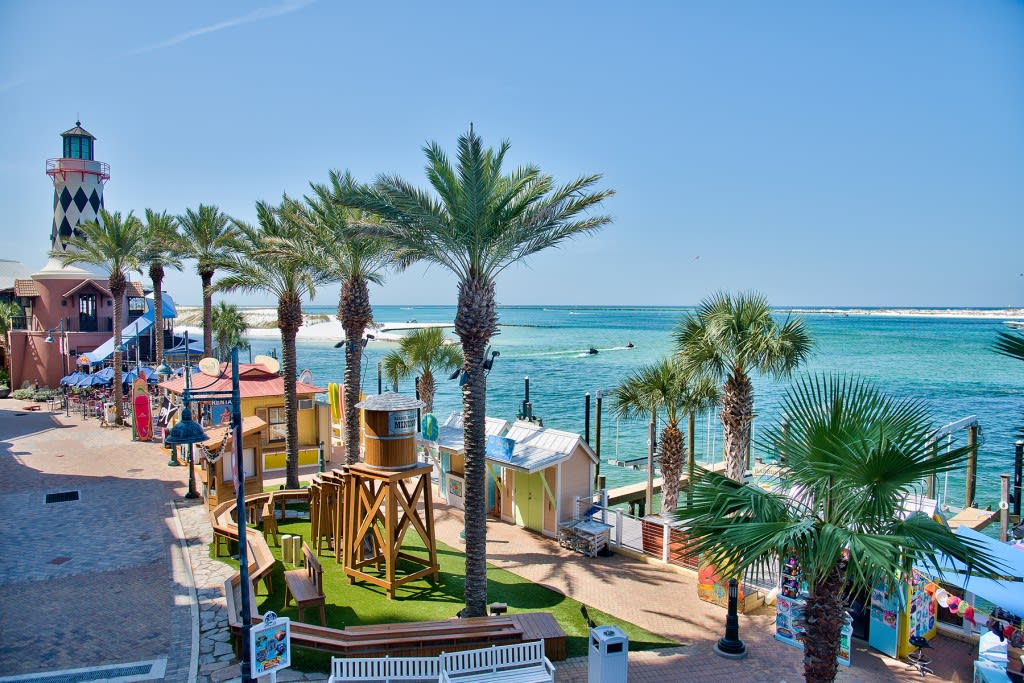 Welcome to Destin
Located midway between Pensacola and Panama City Beach, Destin offers a blend of energetic outdoor activities, a perfect climate, a friendly atmosphere with premier schools, and the dazzling serenity of the Emerald Coast's famous white sand beaches. Once a sleepy fishing village, Destin is now a vibrant, exciting year-round community with unmatched proximity to the deepwater of the Gulf of Mexico.
Getting to Know Destin
Water and the activities that happen in and on it play a major role in the Destin lifestyle. The Gulf of Mexico and nearly seven miles of pure sugar sand beaches border the length of the city to the south and immediately north is the large expanse of Choctawhatchee Bay. The East Pass inlet connects the two bodies of water meaning large boats moored in Destin Harbor can be in the gulf in minutes, while private docks on the bayside give homeowners direct access to both freshwater and the Gulf of Mexico.

Approximately 14,100 residents call Destin home, though that number swells during the spring, summer, and early fall months with the arrival of visitors and seasonal property owners. Destin Executive Airport is centrally located, and three other regional airports—Destin-Fort Walton Beach Airport, Northwest Florida Beaches International Airport in Panama City, and Pensacola International Airport—make getting here from nearly anywhere a simple matter.
Where, and How, to Live in Destin
Destin's most coveted real estate offers owners brilliant perspectives of the ocean and bay. These include residences in several modern high-rises and condominiums overlooking the beach and Gulf of Mexico. Single-family estates on the northern shore of Choctawhatchee Bay or those within proximity of the gulf dunes are the most prestigious acquisitions and command the highest prices due to their scarcity and advantageous locations.

Homes in private enclaves and gated communities like Kelly Plantation and Regatta Bay are also popular and can provide residents with upscale amenities (golf, tennis, pools), a sense of space and security, and gorgeous interior views of lagoons and bayous.

Whatever the desired lifestyle or locale, Destin offers beauty, centrality, and proximity to water at virtually every price point.
Destin Activities
Fishing and boating are central to the character of Destin, and boat owners will find few places on the Gulf Coast with better access to both ocean and bay water, or a more complete range of docking and storage facilities.

Those who don't own boats can easily enjoy the water in a variety of different ways, including via bay and deep-sea fishing charters, and history and nature cruises through the marshes and lagoons of the Choctawhatchee Bay shoreline. The harbor, bay, and ocean are also ideal for water sports like canoeing, kayaking, jet-skiing, pontoon boats, and standup paddleboarding.

Destin is renowned for its dynamic range of restaurants—from intimate, romantic, and acclaimed to big, raucous, and fun—that showcase the finest gulf seafood. HarborWalk Village is a major attraction with independent shops, restaurants, bars, and cafes overlooking the harbor.

Several well-maintained parks, including Henderson Beach State Park with over a mile of water frontage, are another great way to explore Destin's outdoors, and several local water and amusement parks provide additional fun for kids of all ages.

Visitors fall in love with Destin when they experience the gorgeous beaches and warm emerald sea. They purchase property, however, when they realize how much more there is to do and what a perfect environment it is to live in.